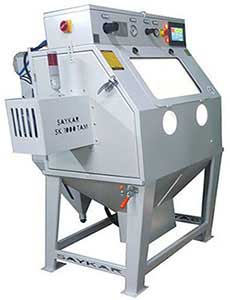 SK 1000 T AUTOMATIC DRUMMED SANDBLASTING MACHINE
AREAS OF USE
SK 1000T Automatic Drummed Sandblasting Machine; provides fast and automatic sandblasting of large number of small parts. It can be used in all polishing, roughening and cleaning works requiring as surface preparation; Removal of residues and maintenance applications, surface finishing, paint, rust and coating cleaning, surface preparation before adhesion, paint, coating, stainless steel and other special materials to obtain high surface quality. It can be used for cleaning the remaining burrs on the small parts produced.
ADVANTAGES OF AUTOMATIC DRUMMED SANDBLASTING MACHINE
*Drummed Automatic Sandblasting Machines do not need for worker during operation. *Audible warning at the completion of the sandblasting and working time adjustment. *High setting control with adjustable drum rotation speed and the direction. *Working with a single nozzle when desired. *The possibility of Manual Operation. *High sandblasting capacity by the injection sand feeding system. *Compact design for drum sandblasting jobs. For sandblasting large parts, opportunity of work outside of the drum. *Recycling abrasive system provides the opportunity of economic and quality works by separating sand and dust. *Jet Pulse System, timed automatic filter cleaning. *Powerful filter system for dust-free working. *Cabin Safety System: Door Switches and motor protection relay.
SK 1000 T Automatic Sandblasting Machine is the most appropriate machine for small parts sandblasting and automatically works with drum. Blasting duration and the speed of the drum can be adjusted. Working possibility without staff and high sandblasting capacity with double nozzle are the biggest advantages.
Our machines are used safely in many companies in Turkey and abroad. For example: France, Bulgaria, Slovakia, Italy, Spain, Germany, Kosovo, Iran, Kuwait, Egypt, Iraq, Azerbaijan, Georgia, UAE.