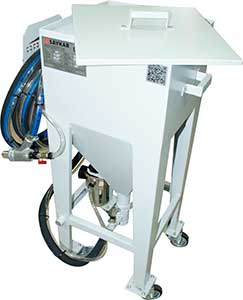 AREAS OF USE
*Removal of waste products and surface finishing in the sectors of automotive maintenance and repair, *Surface cleaning before repair works, *Glass, wood blasting and decoration works, *Restoration of historic buildings and historical monuments, *Paint, rust and coating cleaning,* Surface preparation before coating, adhering, painting, *Removing of small burrs on production parts.
ADVANTAGES OF SKP 40 PORTABLE SANDBLASTING MACHINE
Wide range of use, Can be used with various types of abrasives, Easy to carry, Low investment cost, Easy installation with just an air connection, Low air consumption, Small dimensions for easy storage and cleaning.
SKP 40 Portable Sandblasting Machine provides practical and economic solutions for all your sandblasting applications. Portable Sandblasting Machine can spray all kinds of blasting abrasives with the sandblasting gun which has high blasting power.