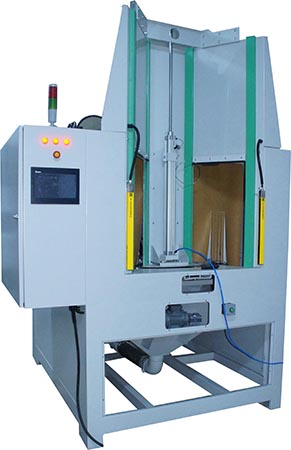 SK 2000 SATELLITE TYPE AUTOMATIC SANDBLASTING MACHINE FEATURES
SK 2000 Satellite Type Automatic Sandblasting Machine is a highly efficient automatic high-tech machine for the treatment and finishing of surfaces. Their efficiency comes from the complete elimination of downtime due to the emptying of machined parts and the loading of parts to be processed. This machine is equipped with a multi-station turntable system that makes it possible to feed the system without interrupting the process. The external station enables loading / unloading while the process is in progress. A special area has been allocated for the processed part. The operator interface PLC allows you to program and control all process parameters with extreme precision.
*Loading / unloading in minimum time *Cyclone for sand separation and recovery *Linear drive units of nozzles *Special station for automatic air cleaning *PLC with operator interface to operate the system *Adjusting the rotation speed of the satellite *Adjusting speed and gun positions *Self-cleaning cartridge filtering cabinet *Internal wear resistant liner
Our sandblasting machines are used safely in many companies in Turkey and abroad. For example: France, Bulgaria, Slovakia, Italy, Spain, Germany, Kosovo, Iran, Kuwait, Egypt, Iraq, Azerbaijan, Georgia, UAE.